Calvary Chapel began in the late 1960's as a small non-denominational church of 25 members pastored by Chuck Smith in Costa Mesa, CA. As we round the turn of the century, Calvary Chapel of Costa Mesa is home to some 30,000 believers, The Word for Today publishes Bible study books and tapes all over the world, KWVE broadcasts God's Word to all of Southern California, CSN broadcasts God's Word all over the world, and Calvary Chapel's Bible College provides Bible education to thousands at its home campus in Murietta, California and at over 20 extension campuses world wide.  Click here for a gripping account of the history and spread of Calvary Chapel.
Calvary Chapel Grand Rapids began in Pastor Ed Yearack's living room with six people in 1994.  Pastor Ed was called by God to the ministry after hearing Chuck Smith's Bible studies on Christian radio in Arizona.  He attended the Calvary Chapel School of Ministry, where he learned the "nuts and bolts" of the care and feeding of God's sheep.  When praying about where the Father would want him to go, Michigan repeatedly came to mind.  When he went to a respected teacher for advice, he was given confirmation in the words, "My people perish for lack of knowledge."  
Shortly after that, Calvary Chapel Grand Rapids was planted.
Tune in to CSN Radio locally on 90.7 FM, or listen online here to hear great Bible teaching and passionate praise and worship, 24-hours a day.
---
BELIEFS
Verse by verse teaching makes Calvary Chapel distinctive. We welcome you to fellowship with us and be a part of a body of believers committed to the truth and teaching of God's Word.
It is our sincere hope that our intimate worship services and in-depth Bible study will either bring you to a saving knowledge or a closer relationship with our LORD and Savior Jesus Christ.
What is a Calvary Chapel?
Calvary Chapel is a non-denominational Christian church which began in 1965 in Costa Mesa, California. Calvary Chapel's pastor, Chuck Smith became a leading figure in what has become known as the "Jesus Movement."
More information on the history of Calvary Chapel can be found in the book Harvest.
Why Calvary Chapel?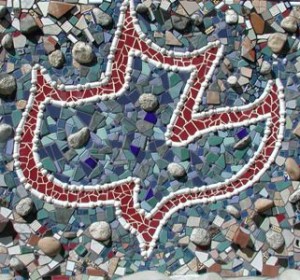 There are many who believe in the gifts and ministry of the Holy Spirit, but they do not have a strong emphasis on
Biblical teaching, nor do they look to the Word to guide their experiences with the Holy Spirit. There are many who have a strong emphasis on teaching the Word of God, but they don't share the view that the gifts of the Holy Spirit are available and valid today. In Calvary Chapel we find the teaching of the Word, and an open heart to the work of the Holy Spirit. It is this balance that makes Calvary Chapel a distinct and uniquely blessed movement of God. For more information read the book Calvary Chapel Distinctives.
What can I expect?
On Sunday mornings, we begin with a period of worship. The entire family worships together in the sanctuary; children are dismissed for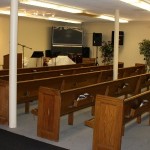 Children's Ministry at the conclusion of worship, and before the announcements. This is so that the children can be ministered to at a level they can receive, and to minimize distractions in the sanctuary during the Bible study. We teach expositionally, verse-by-verse through the entire Bible on Sunday mornings. After the Bible study, we will normally close in worship, and then enjoy a time of fellowship. Prayer can be requested (and is encouraged!) at this time.
Sunday services are at 10:00am. More on different services, upcoming events, and useful information can be found at the Service Times and News links to the right, and in the weekly bulletin available Sunday mornings.
Why We Are Distinct
One of the mistaken concepts many have is that all Christians and churches should be identical. They assume that "unity" is equivalent to "sameness." But the Apostle Paul points out that differences do and will exist between churches and individuals in Christ:
"There are different kinds of gifts, but the same Spirit. There are different kinds of service, but the same Lord. There are different kinds of working, but the same God works all of them in all men." (1 Cor.12:4-6)
We are called to unity in faith and doctrine, and there should be no tolerance for false, heretical doctrine. But on issues of style and practice, there should be tolerance. These are the areas of personal preference that should be respected. We refer to these as "distinctives." They represent diversity within the greater Christian unity. The following is a short list of our distinctives:
We believe in the expository teaching of the whole Word of God (Acts 20:20,27; Neh 8:8; Ps.138:2). Therefore, our worship services are structured around verse-by-verse teaching of the whole Bible, from Genesis to Revelation.
We believe the Book of Acts represents "normal" Christianity. Therefore, we seek to pattern our lives and ministry after that modeled by the early church, as revealed in the book of Acts.
Our Missions & Means: "But you will receive power when the Holy Spirit comes on you; and you will be My witnesses in Jerusalem, and in all Judea and Samaria, and to the ends of the earth." (Acts 1:8)
Our Lifestyle: "They devoted themselves to the apostles' teaching and to the fellowship (koinonia), to the breaking of bread and to prayer." (Acts 2:42)
Our Growth: "And the Lord added to their number daily those who were being saved." (Acts 2:47)
We believe in pastoral leadership as the truest biblical pattern for church government. Therefore, the Elder Board, under the leadership of the Senior Pastor, is primarily responsible for direction and decision making.
We believe that the worship of God should be . . .
Spiritual, therefore, we remain flexible and yielded to the leading of the Holy Spirit to direct our worship,
Inspirational, therefore, we give a great place to music in our worship,
Intelligent, therefore, our services are designed, with great emphasis upon teaching the Word of God, that He might instruct us how He should be worshipped,
Fruitful, therefore, we look for His love in our lives as the supreme manifestation that we have truly been worshipping Him.
We believe in balance regarding the ministry of the Holy Spirit. Therefore, we consider ourselves to be neither charismatic nor non-charismatic. We believe that all the gifts of the Spirit are available and operational within the church, but should only be publicly exercised under the guidelines found in 1 Corinthians 12-14, and under the oversight of the eldership, that all things might be done decently and in order, for the edification of the body.
We believe that our ministry should be simple and sincere. Therefore, we seek to imitate the testimony of the Apostle Paul to the Corinthians:"For our rejoicing is this, the testimony of our conscience, that in simplicity and godly sincerity, not with fleshly wisdom, but by the grace of God, we have behaved in the world, and more abundantly toward you." (2 Corinthians 1:12)Therefore, our services are conducted in a relaxed, comfortable and normal style. Human efforts to coerce or manipulate a response are contrary to the gentle and personal nature of the true ministry of the Holy Spirit.
We believe we are only one member of the body of Christ. Therefore, we can rightly be classified as nondenominational. "Denominationalism" is an attempt to draw a line of exclusivity around Christ. No such line can honestly be drawn. We have our distinctives (as the hand is distinct from the foot), and we have our role that may differ from other parts of the body – but we are still only a part.
We believe in both the sovereignty of God and mankind's free will/choice. Therefore, we resist the extreme positions of hyper-Calvinism and/or hyper-Arminianism. We feel that both try to force a conclusion that disregards a Biblical balance. The believer in Christ is both secure in his faith and responsible to live a life of faith.
We believe in the imminent return of Jesus Christ. Therefore, doctrinally, we are Pre-Tribulational and Pre-Millennial in our interpretation of Last Days prophecy. Consistent with this position, we believe there is no sign or condition that must be fulfilled before Christ's imminent, visible, bodily return.
We believe that healthy sheep beget healthy sheep. In keeping with this purpose, we seek to win the lost, disciple the saved and encourage the faithful. We believe that if we take care of our "depth," God will take care of our "breadth." The purpose of the church is not numerical growth, but spiritual growth. The only strategy we have for our ministry is to "feed the flock of God." (John 21:12; Acts 20:28; 1 Peter 5:2).
---
Doctrinal Beliefs
of Calvary Chapel Grand Rapids
The Scriptures
We believe that the sixty-six Books of the Bible (Old and New Testaments) to be the verbal, plenary, confluent, inerrant Word of God; they are the final authority in faith and life.
God
We believe the Godhead exists eternally in three distinct, coequal Persons: that of the Father, that of the Son, and that of the Holy Spirit. These three Persons are One eternal, uncreated God, having precisely the same nature, attributes, and perfections, without division of substance yet without confusion of subsistence.
Jesus Christ
We believe in:

His eternal existence as God, eternally One with the Father and the Spirit
His incarnation by means of the Virgin Birth
His two Natures – Human and Divine

United in His one Person, yet unmingled within that one Person

His sinless life and substitutionary death on the Roman cross as a vicarious Atonement for sin
His literal, bodily resurrection from the dead
His ascension to the right hand of he Father, and present intercessory ministry in heaven
His future, imminent, personal return to this earth.

The Holy Spirit
We believe the Holy Spirit, the Third Person of the Godhead, convicts men of sin, regenerates, baptizes, indwells, seals, and sets apart and empowers believers unto a holy life; that He keeps and empowers believers day by day; that He is he Teacher of the Word of God and the Guide of our daily lives.
Man
We believe:

Man was created in a state of innocence, a tripartite being with a living spirit, rational soul, and physical body.
Adam fell from that initial state through the sin of disobedience; God had warned Adam that in the day that he partook of the fruit that he would die, and when he rebelled, he died spiritually, which set in motion and later ultimately resulted in his bodily death.
Like begets like; therefore all humans, having their descent through Adam, are born corrupted by original sin in body, mind; and therefore to experience restored fellowship with God, must be spiritually reborn.

Salvation
We believe:

It is by grace, a free gift of God's love, through faith in the finished work of Jesus on the Cross, and not by works.
This offer of salvation is open to all who would receive through faith without limitation.
All who receive Jesus by faith are regenerated and sealed for the day of redemption by the Holy Spirit and become the children of God.
True salvation will be manifested by a changed life.

The Future
We believe:

In the pre-millennial, pre-tribulational Rapture of the Church.
In the personal, visible, bodily return of Jesus to this earth, and in His thousand-year reign from the restored Temple, in Jerusalem, Israel.
In the bodily resurrection of the just to eternal abode in the glory of His presence.
In the bodily resurrection of the unjust to judgment and everlasting punishment in the Lake of Fire.