Calvary Chapel started as a non-denominational church located in Costa, Mesa, CA in 1965 with a congregation of 25 members pastored by Chuck Smith. Calvary Chapel has grown to thousands of churches around the world. It's organization includes:
– A media company which publishes Christian books and distributes recorded tracks all over the world
– Radio station KWVE which broadcasts to all of Southern California
– TV channel CSN which broadcasts God's Word all over the world
– The Calvary Chapel Bible college located in Marrietta, CA with over 20 global satellite campuses educating thousands in Bible over the world
What makes Calvary Chapel distinctive is the emphasis on Biblical verse-by-verse teaching. Many people belive in the gifts and ministry of the Holy Spirit, but do not have a strong emphasis in Biblical teaching or look the the Bible to help guide their experiences with the Holy Spirit. Many do have a strong emphasis on teaching the Word of God, but they don't share the view that the gifts of the Holy Spirit are available and valid today.
In Calvary Chapoel we find the teachings of the word combined with an open heart of the work of the Holy Spirit creates a balance that makes Calvary Chapel a distinct and uniquely blessed movment of God.
History of Calvary Chapel Grand Rapids
Pastor Ed Yearack was called by God to minister after hearing Chuck Smiths Bible studies on Christian Radio in Arizona. After attending Calvary Chapel's School of Ministry to learn the "nuts and bolts" of minsitering a congregation, and praying where to go next. God led him to Michigan where Pastor Ed started Calvary Chapel in his living room with six congregation members. Pastor Ed ministered Calvary Chapel Grand Rapids until he and his wife, Sister "", left for Arizona in # passing the baton of ministering the congregation to Pastor Randy Williamson.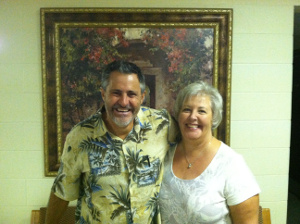 Pastor Randy Williamson has been the Pastor of Calvary Chapel Grand Rapids for 6 years, and has been a pastor for 38 years.